KKDIK Regulation
On June 23, 2017 the Turkish Ministry of Environment and Urbanization (MoEU) published KKDIK Regulation for the management of substances, very similar to the EU REACH regulation,  (EC) No 1907/2006
Regulation is known as KKDIK, it is an acronym in the Turkish language for Registration,  Evaluation, Authorization and Restriction of Chemicals:

KKDIK – Turkey Reach replacing;
TURK REACH replaces three existing regulations
The Inventory and Control of Chemicals (CICR was immediately replaced by KKDIK regulation on June 23, 2017)
The Restrictions Relating to the Production, Supply to the Market and Use of Certain Hazardous Materials, Products and Goods; (repealed on  December 23, 2017)
The Preparation and Distribution of Safety Data Sheets for Hazardous Material and  Products; (will be replaced from December 31, 2023)
KKDIK – Turkey Reach Aim
The purpose of KKDIK is to regulate the administrative and technical procedures and principles  regarding the registration, evaluation, authorization and restriction of  chemicals, to ensure a high level of protection of human health and the  environment, including the promotion of alternative methods for assessment of  hazards of substances while enhancing competitiveness and  innovation.
The Scope of KKDIK – Turkey Reach
KKDIK covers manufacturing, placing on the market or use of the substances on their  own, in a mixture or in an article and placing the mixtures on the  market >1 ton per year.
Roles Defined By the Regulation
Roles & Obligations regarding to KKDIK Regulation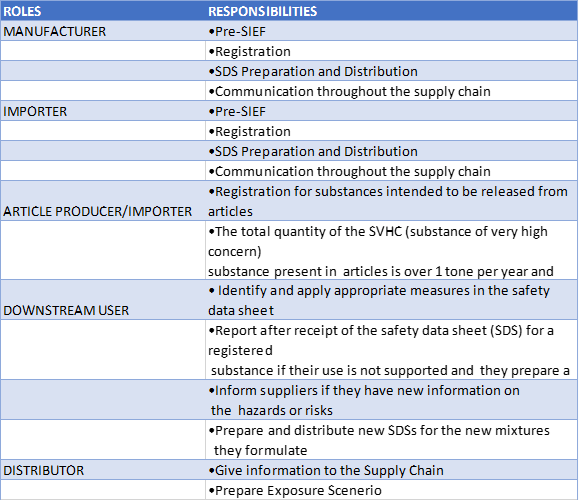 KKDIK Registration
KKDIK – TURKREACH regulation requires companies to register all substances manufactured or imported into Turkey in volumes greater  than or equal to  1 tonne per year (1t/y).
Who can register?
Only Representative (OR)" for non-Turkey manufacturers
Manufacturer
Importer
KKDIK SIEF – Joint Submission
SIEF = Substance Identification Exchange Forum
SIEF participants should include all relevant actors submitting information to the Agency on the same substance for;
cost sharing and data sharing
prevent unnecessary animal testing and reduce costs
joint submission of the same substance
Joint Registration is that different companies who want to register the same substance can create a joint registration file inside the SIEF and submit  registration dossier jointly.
Roles inside of a SIEF
Lead registrant should submit registration dossier first
Member registrants always submit after the lead registrant
Information to be submitted depends on tonnage:  information specified in Annexes 7-10.
KKDIK Turkey REACH registration requirements differs from EU REACH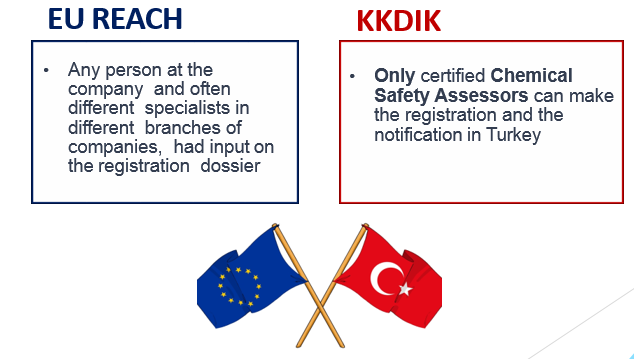 References and Links